Whether you own a single van or an entire fleet, Lancing Commercial can make sure your vehicles are well-maintained, serviced regularly and act as a good advert for your business.

 
"Vans represent around 40% of our core business, so you can be assured we've got the experience you need.  We get it-your van is your business; and if you've got a large fleet (our largest customer runs over 100 vans), it's critical we get it right first time.  I'm extremely proud of our reputation in this market."
Steve Torricelli, co owner
We know many manufacturers rely on their car servicing outlets for van services, meaning a lack of knowledge or space and a general lack of understanding on how important it is to get your van back to work.  
Indeed, we do most of their local MOTs, as their bays aren't large enough…. even the main dealers trust us.  Or, you'll end up at a local garage that works predominantly on cars and doesn't know much about vans.  
We, on the other hand, have built our business on commercial vehicles, so we know our stuff.
And, we know how time critical getting vans back on the road can be. So if you're in a jam, we'll do all we can to get you back on the road.
We've been dealing with high pressure injection systems, turbo and air flow faults, AdBlue systems and DPF regeneration issues on trucks for ages. As they are all now commonly used on vans, the chances are we have seen symptoms and found the solution before.
Our 80 ft bodyshop has a modern paint extraction system, making it perfect for complete refurbishments, accident damage resprays and repairs and panel beating.
We'll work hard to keep you and your vehicle on the road and get it back to you as soon as possible after an  accident or MOT failure.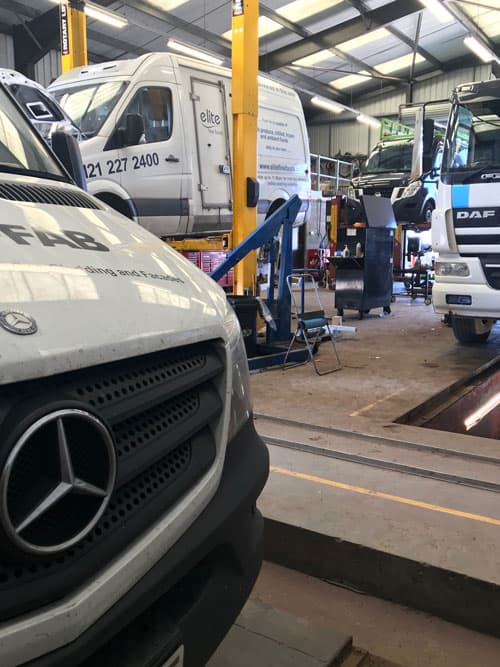 Lancing Commercial Van Services
 MOTs – Class 4, Class 5 light and Class 7 up to 3.5 tonnes
Servicing, clutches, brakes and all mechanical repairs
Brakes and emissions testing
Engine and gearbox removal and fitting
Pre-mot checks – we'll give you a genuine assessment of what is likely to fail when your MOT is due, allowing you to plan when to have the work done and avoiding being without an MOT
Diagnostics – Texa, Autel and Snap On
Body and accident repairs
Owner driver to large fleets
MOT welding
MOT failure work
DPF regeneration, subject to soot content
Emergency call out during workshop hours for customers
All makes and models, specialising in Mercedes, Ford, VW, Iveco, Peugeot, Citroen and FIAT
Mercedes Sprinter injector extraction (including seized injectors)
Mercedes Sprinter airflow testing – a common fault on new shape sprinters are broken inlet manifold bolts, showing themselves as over boosting faults
While you wait MOT and emergency repairs
Competitive hourly rate and estimates for larger jobs before work is undertaken
Credit cards accepted
We provide emergency call out in workshop hours and facilities whilst you wait for emergency repairs and MOT.
Our office hours are
8am to 6pm
Monday to Friday
Lancing Commercial Ltd
61 Spencer Road
Lancing Business Park, Lancing
West Sussex, BN15 8UA